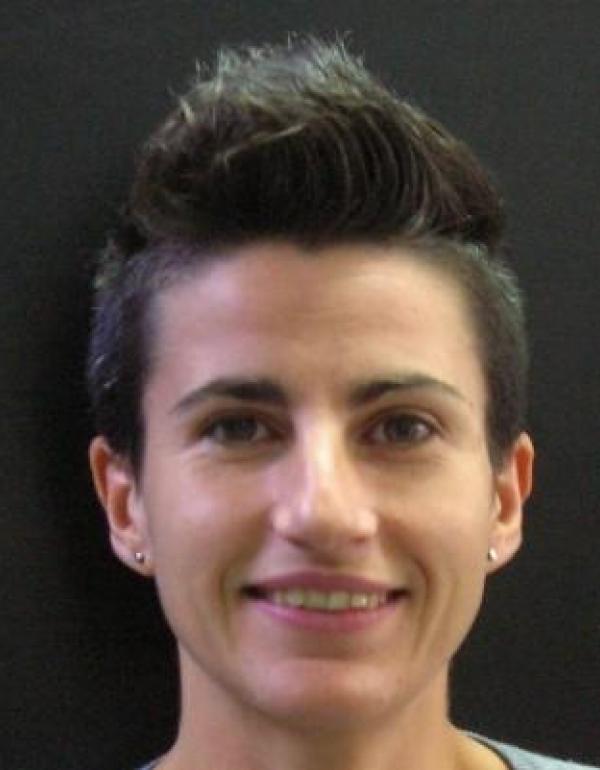 Elisa Moschini
R&T Associate (LIST)
Elisa Moschini was born in Novara, Italy, in 1983. She got her BA and MSc in Environmental Sciences at Milano-Bicocca University (Summa cum laude). She has obtained her PhD in Environmental Sciences, in 2012, with a dissertation focused on the biological effects induced by metal-based nanomaterials on in vivo and in vitro systems. 
EM spent four years as post-doc at the Polaris Research Centre (Milano-Bicocca University) and in 2016 she moved to the Luxembourg Institute of Science and Technology where she is actually working as R&T Associate in Respiratory Toxicology within the Environmental-Health group. In 2016 she was also involved within the "ENTER1205" Cost Action through a Short Term Scientific Mission.
Her research interests include: development of complex co-culture systems for respiratory toxicology (including respiratory sensitization); implementation of exposure systems for nanoparticle and chemical delivery to cells; uptake and molecular toxicity of environmental (nano)particles and chemicals on human cells and thereby on environmental health. 
EM has mainly expertise in cell culture maintenance, biochemical assays, confocal microscopy and handling of co-cultures grown and exposed at Air Liquid Interface using commercial advanced exposure systems.
OpenTox Euro 2019 talk: A 3D-tetraculture system at the air-liquid interface as valuable tool for hazard assessment of respiratory irritants and sensitizers
Background: In certain cases, respiratory sensitizers can be considered substances of very high concern (SVHC) but, actually, there are not validated, fit-for-purpose models for their identification.
Purpose: The aim of this research is developing a 3D co-culture system, able to integrate markers for systemic effects induced by inhaled substances, that could be used in the hazard and risk assessment of potential respiratory irritants and sensitizers.
Methods: A co-culture system representative of the alveolar-capillary barrier was originally set up by Klein et al. (2013) to study the effects induced by inhalation of environmental (nano)particles. This in vitro model was then modified by Chary et al., 2019 to make it prone for the study of potential respiratory sensitizers. The current model combines alveolar epithelial cells (A549), rested macrophage-like cells (both seeded on the apical side of a TranswellTM insert), endothelial cells (EA.hy926) and dendritic cells (THP-1, DCs), both placed on the basolateral side. This orientation allows to grow and expose the apical side at the air-liquid interface (ALI) keeping the basolateral side in submerged conditions and the presence of DCs allows to take into account for potential systemic effects. 
Cells were exposed to concentrations of chemicals inducing the 25% of cytotoxicity using the 6-w VitrocellTMCloud System. The selected substances are representative for potential respiratory irritants (Acrolein-Acr), Methyl Salicilate - MeSa) and respiratory sensitizers (TriMellitic Anhydride - TMA), Phthalic Anhydride - PA). At the end of the incubation period cytokine release, THP-1 surface marker expression (CD54, CD86, TLSPr), gene expression, were investigated (Patent WO2018/122219 A1). 
Results: The exposure to TMA and PA induced DCs activation as well as a specific cytokine release pattern, while Acr did not. In particular, increased expression of CD54, CD86 and TSLPr was observed after exposure to the potential respiratory sensitizers while irritants induced a decrease in CD54 expression (Acr). 
This results, confirm that the selected markers could represent promising parameters to discriminate between respiratory irritants and sensitizers making the model a good candidate to be used as recognized tool for hazard assessment of unknown compounds. 
References
Klein, S.G., Serchi, T., Hoffmann, L., Blömeke, B., Gutleb, A.C., 2013. An improved 3D tetraculture system mimicking the cellular organisation at the alveolar barrier to study the potential toxic effects of particles on the lung. Part. Fibre Toxicol. 10, 31. doi:10.1186/1743-8977-10-31.
Chary, A., Serchi, T., Moschini, E., Hennen, J., Cambier, S., Ezendam, J., Blömeke, B., Gutleb, A. C., 2019: An in vitro coculture system for the detection of sensitization following aerosol exposure. Altex 36, 403-418. doi:10.14573/altex.1901241. epub
Patent WO2018/122219 A1